It's one thing to take care of a collection that you've built or cared for from the beginning, but coming into a long-established collection can be overwhelming. Where do you even start assessing what could be thousands of documents spanning multiple topics? How do you determine what is top priority for preservation and digitization efforts and what needs to wait? How do you improve and expand the functionality of a collection that's been in use for decades?
These are the kinds of questions Marybeth Niederkorn asked herself when she was hired as the new director of the Cape Girardeau County Archive Center. Located in Jackson, MO, the Archive Center opened in 2001 to serve as a secure and accessible storage center for county records. The climate-controlled repository is open to the public and county officials five days a week with full-time staff available to help search the estimated one million pages of documents dating back to the 1790s.
Anderson Archival recently sat down with Director Marybeth Niederkorn to discuss the challenges of coming into an established collection, what the collection offers, and what she plans to do to move the collection forward.
Anderson Archival: Can you give me a little background about yourself?
Marybeth Niederkorn: I come from a background in journalism and education, which gives me a lot of training in research and a big network [of contacts in the area]. Local history fascinates me. It always has. And now, I'm able to promote it full time while also working to preserve it, make it accessible, and just deepen the understanding and the reach.
AA: So you know the Archive Center from a user's end, and have experience with the intricacies of this region.
MN: Right, and in this region, we are really blessed with a lot of extremely knowledgeable historians. We have a bunch of organizations that have not just directors but volunteers who are deeply informed about this region's history and … who are able to help connect the dots for people who need to know more about either their family's history or a business's history or how this all fits into the overall story of how this part of the country was settled.
AA: What kind of records do you house and what function does the Archive Center serve?
MN: The Archive Center is primarily a county facility, so we house county records from the treasurer, from the collector, from the auditor, so we have things like probate records, personal property tax records, marriage licenses, county commission meeting minutes, and some school records. Some of the school records we have are from schools that are no longer incorporated, so they're very important historically.
We also have the Cape Girardeau County Genealogical Society records here. There was a genealogist named Margaret Mates who did research on hundreds of families in the area, and she has collected information on birth and marriage records. It's an extensive collection of binders of her work, and that's extremely helpful when someone calls us and says, "Hey, I'm trying to figure out, my twice-great-grandfather was married three times and how does that family work?" We're able to give them some insight usually using those records, and we can also usually pull up information on . . . maps of land ownership.
There's a map [of the county] that we use a lot. It's the 1901 map, and it shows who owned what and where, and we have that indexed so we can usually find some pretty good information. We can either work backwards from it using our tax records—ownership records—or, we can work forward.
And we assist patrons with research. We talk with genealogists from all over the world. We have a genealogist in Germany who has some family connection here, so he calls us sometimes. We work with people who are looking for records of all types. A pretty common one we get is someone calling in to find out when their divorce was finalized, because they are getting remarried or they need a driver's license. It's kind of eclectic. We never have the same day twice.
We never have the same day twice."—Marybeth Niederkorn, Director of the Cape Girardeau County Archive Center
AA: What was it like coming into an established collection for the first time?
MN: A little overwhelming. From my time at the Southeast Missourian I knew about this facility… I had an idea of what I was getting into, but it has been a long process of wading into the collection so that I don't drown. I've been leaning pretty heavily on our volunteers and on Lyle Johnston, our assistant archivist, who is a wealth of information and can put his hand on just about any document in the place when asked.
I have a wonderful staff and I am trying not to overwhelm myself. Fortunately, my predecessors, the previous directors of this facility, have been excellent stewards and custodians of this collection. I was able to step into something that was pretty well prepared for someone to take over and take it to the next level.
AA: What does the next level look like for this collection?
MN: We already have a gem of a facility. My hope is to raise the profile of this place and have more people understand what we have, what we are, and what we can do for them. We are a county facility. We're supported by county tax dollars. I take that very seriously.
[The collection is] publicly accessible, and I would love for more of the public to know about us, and that we can do a lot of research [on their behalf] by phone or email.
We had a person this morning email us and ask what the history of a particular building in Cape Girardeau is. Our first questions back were, "What do you want to know specifically? Do you want to know chain of ownership? Do you want to know historical significance, because that's a big question, but we'd love to help."
We love a mystery, is what I like to tell people, because I think people hesitate to ask us to do research for them because they feel like it's a big ask, but we love diving in and seeing what we can find for people. That is pretty much our favorite thing to do here.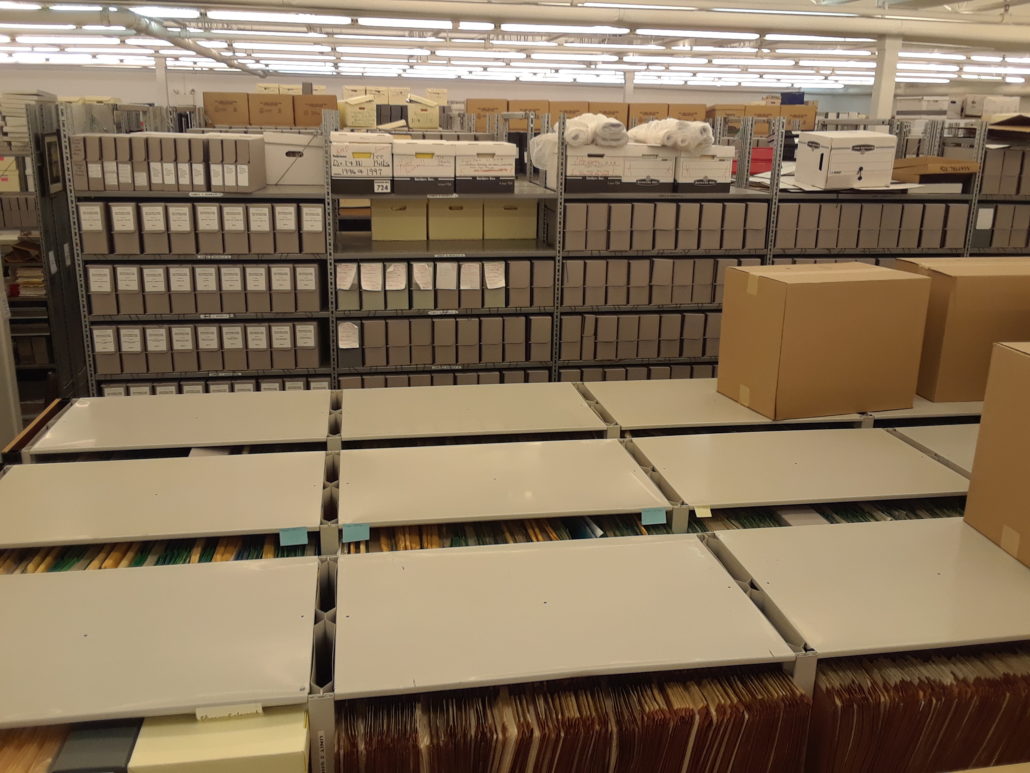 AA: What were some of the first things you had to assess?
MN: Lyle had been the de facto director for not quite a year before I came in because the previous director had been very ill and unfortunately passed away this spring. So, I'm still in the discovery phase; I'm still trying to assess where we are.
The first thing that we talked about on day one when Lyle took me on a tour of the facility was that we need to increase our shelving capacity, because there are some places where boxes are stacked two or three tall on a shelf. That's not ideal, because paper is really heavy, and these boxes are not really designed for that level of structural integrity. That's our biggest focus right now. As soon as we get that secured, we can start looking at what kinds of records we can digitize in order to support our physical collection.
We get that question a lot, "Why isn't your whole collection online?" Oh, boy.
It would be really nice, but we have other priorities at the moment. We would love to have things online, but there's also some sensitive information. We house divorce records—divorce records have social security numbers and children's names and that kind of thing.
AA: In other words, with digitization comes cyber security.
MN: Exactly. And that would be something we would need to outsource. What I tell people is, if we had 500 volunteers working 50 hours a week, it might only take us 60 years to get most of our collection online, you know, so it's a lot. And we don't even have 50 volunteers.
AA: How do you prioritize changes and improvements for the archive?
MN: It's a matter of figuring out what is going to be the most costly. As far as money and time, I'm working on grants to help secure that funding. I am working on what I consider the biggest things first, and also maintaining our document stabilization efforts.
I would really like for an outside observer to come in and assess what we're doing right and let us know what we can improve, because I think having an outside perspective would be very helpful.
I don't want to just go back there willy-nilly and say, "Well, I know we need shelves but I don't know what else we need," and just kind of throw darts at a list of stuff, if you know what I mean. Having a plan is definitely better.
AA: What other plans do you have for the archive?
MN: I'm hoping to raise the profile and public awareness of what we have, and hopefully work towards digitization as a backup to our existing hard copies. I have been talking with a lot of the other facility directors and organizations in the area. I'm hoping to work as closely as I can with, for instance, the State Historical Society of Missouri, with the Genealogical Society of Cape Girardeau County, with the Cape Girardeau County History Center, which is about a block and a half away from us, and with Southeast Missouri State University, in Cape Girardeau.
They focus more on collections that have physical objects, so their mission is a bit different from what we do, but it's a great opportunity for us all to support each other and work together. We all have different resources and different strengths, and if a person calls us, and they need some information that I happen to know the State Historical Society is working through at this very moment, then I can direct them that way and vice versa.
My hope is to work more closely with other organizations, and generally be more visible and more accessible to people so that we can be of the most benefit possible.
People hesitate to ask us to do research for them because they feel like it's a big ask, but we love diving in and seeing what we can find for people. That is pretty much our favorite thing to do here."—Marybeth Niederkorn, Director of the Cape Girardeau County Archive Center
AA: What would you suggest someone coming into an established collection should do?
MN: Don't try to do everything at once. Don't try to learn everything at once, it's going to take some time. Knowing the physical location of things is important, and knowing the condition of the records in your collection is important.
Knowing who your resource people are is important. For instance, we have a few key people we can call if we have a question. We got a question last week where someone was looking for the name of a specific funeral home that had operated in the 1940s and 50s. We looked in our phone directories; we looked in obituaries from that time period. We looked a few places and could not come up with it.
It's very possible that a funeral home in the 1940s /1950s didn't have a phone number, so it wasn't in a phone directory. But I was able to call a couple of people, and one of them came right back with, "Oh, this was the name of it. All of their records went to a specific place whenever they closed down." So, knowing your key people to call to help fill in the gaps and put information together is very important.
Knowing the state the collection is in and understanding what the mission of your facility is—know your goals and understand how to get there is essential. And that's probably going to take a lot of talking to people and sitting with the collection and getting a good physical sense for it.
Anderson Archival is grateful to Marybeth Niederkorn for her time and participation in this interview. The Cape Girardeau Archive Center can be reached at archive@capecounty.us. For many researchers and archivists, knowing the resources that are publicly available, such as the Cape Girardeau County Archive Center, is the first step in unraveling the ever-growing story of history.
If you're coming into a collection or have been curating one from scratch and it needs digitization, the experts at Anderson Archival are ready to help you move your collection forward.