Digital Preservation vs. Digitization
It may feel like the terms 'digital preservation' and 'digitization' are interchangeable, but it's better to think of them as fingers and thumbs. All thumbs may be fingers, but not all fingers are thumbs. Digitization is the thumb and digital preservation are the fingers. Digitization is necessary to the overall function of digital preservation, but the rest of the fingers work with it to hold up your digital collection.
What's the Difference Between Digital Preservation and Digitization?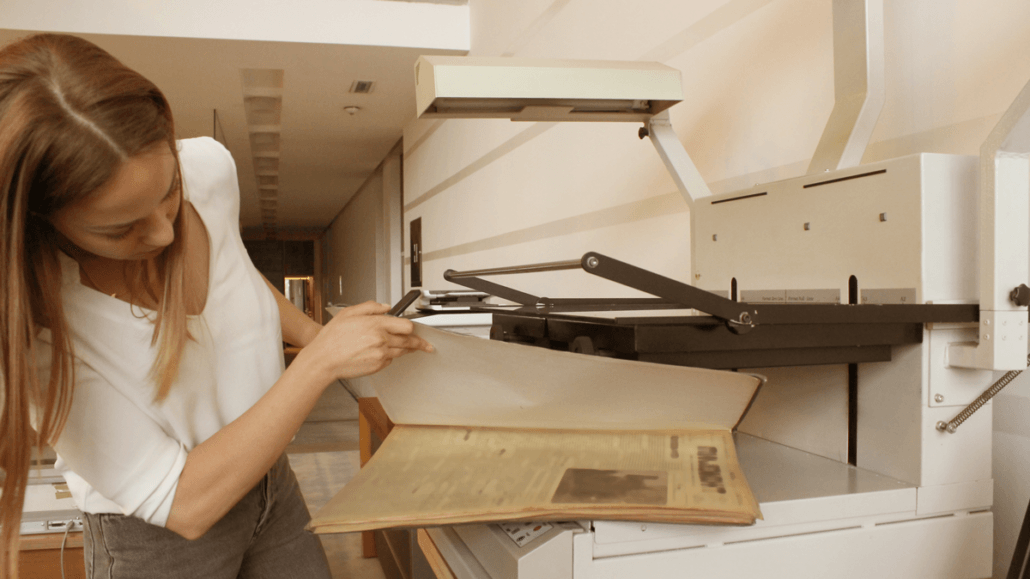 According to the Digital Preservation Coalition's The Digital Preservation Handbook, digital preservation is "the series of managed activities necessary to ensure continued access for as long as necessary." This means that digital preservation is a continuous process beginning when you receive materials for the collection and going through all the steps necessary to provide the intended audience access to the digital files. Digitization is only one of the activities within a comprehensive digital preservation plan.
Before we jump into what a digital preservation plan involves, let's take a closer look at what makes up digitization. In the simplest terms, digitization is the process of turning a physical object into a digital file, usually through scanning or photographing the item. Sounds simple, right? Okay, that was a loaded question.
Turning a physical object into an accurate and useable digital record takes an investment in time, equipment, and personnel.
How much of each that is necessary depends on the final use case intended for your digital collection. Outsourcing digitization may be a better option for organizations that cannot devote the resources needed. There is no one-size-fits-all solution to digitizing your collection.
Accurate Scanning
Creating accurate representations of the original items requires the right scanning equipment and technical expertise, but even this is subjective. If all you need is digital access to the text, a high-capacity office scanner may be sufficient. On the other hand, if you are aiming for
FADGI 3-Star quality
or higher to produce a high-quality archival master copy that is faithful to the original, more specialized equipment and technical knowledge will be needed. Only you can decide what level of accuracy your collection requires, but it's important to look to the future. Sacrificing quality and accuracy now may mean your future plans for the digital collection are limited, and the digitization may even need to be redone to make the collection useful.
Useable Files
Beyond scanning, the final output of digitization can be far more than mere images on a screen. Multiple file formats can provide users with a digital copy that works best for them, while
optical character recognition (OCR)
and
metadata tagging
help to create a searchable digital collection. Simply having the files is not enough if no one can access or easily find the information they need.
What Is Digital Preservation?
Digital preservation encompasses the entire organizational plan of digital content from creation and curation to preservation and access. This includes files that are born digital, which have no physical counterpart, such as emails, social media posts, and other files first created digitally. A comprehensive digital preservation plan creates a systematic process for handling digital materials, providing access, and ensuring usability into the future.
If we are unable to provide access to our preserved digital content, we should ask ourselves, "Why are we preserving it in the first place?"—Digital Preservation Coalition, Novice to Know-How, Course 7: Providing Access to Preserved Digital, Module 1: Introduction to Providing Access
There are various models of digital preservation that you can use to help you build a plan that meets the needs of your organization and collection, such as
None of these models are prescriptive solutions, but rather they lay out the type of work, important processes, and possible problems to consider, each with different focuses.
The DCC Curation Lifecycle Model
The Curation Lifecycle Model presents the preservation process through a visual cyclical model. With this model, you can identify the areas that need to be included in a preservation plan. It can also help you plan for the future, slowly improving and expanding as your digital collection grows and changes.
The Digital Preservation Management Model (DPM)
The DPM focuses on the entire organization at a high level. It identifies the three main areas of digital preservation and the five types of responses your organization might face in implementing a digital preservation plan.
The Open Archival Information System Model (OAIS)
The OAIS Model is the international standard for digital preservation. It is more detailed than the previous models and includes multiple models that deal with function, information, and environment. Like the others, it is not prescriptive, but acts as a reference for creating a digital preservation plan.
Though both digitization and digital preservation are multi-step processes, digitization is only one part of digital preservation. By creating a digital preservation plan, you will provide the structure and processes to keep your digital collection thriving and accessible into the future.
Need help with the digitization step of your digital preservation plan—along with the plan itself? Anderson Archival can help you create high-quality and searchable digital files, as well as provide guidance on the ways you can use and share your collection online.
Subscribe to Our Newsletter
Digital preservation is about connecting to history. We do our best to bring you the important news and personal stories you're interested in. We're always looking for article ideas. Come learn with us!