Technology is so engrained in our everyday lives that it can be hard to imagine a time when the only evidence of one's ancestry was a single handwritten line in an archive across the country. But before the age of virtual records and digital paper trails, this was the only option for some people hunting down their history—or the history of esteemed historical figures.
Anderson Archival sat down with Laurel Bennett, executive assistant at Cayuga Centers, a nonprofit founded in 1852 as a home for destitute children. Over the last 165 years, Cayuga Centers has become not only a temporary support system for children in need, but also an organization that provides every kind of support possible for children and families regardless of circumstance.
This collection also has significance to history on a larger scale, but we'll let Bennett explain in her own words.
AA: Can you tell our readers a little bit about Cayuga Centers' history and mission?
[Cayuga Centers] started in the early 1860s as an orphanage. Three of the prominent families of Auburn, New York—one of which [were] the Sewards, who you might know through Henry Seward, the secretary of state to Abraham Lincoln. They saw a need for an orphanage so they created one [here].
Over the years, Cayuga Centers evolved into what it is today, which is a nonprofit that is chosen to help children, families, and individuals to grow at home. I'm going to read you our mission: 'To grow as independent, healthy, and productive citizens through quality counseling, residential, and support services. We do this in partnership with those we serve, as well as government agencies and other social services providers.'
We have programs for people with intellectual and developmental disabilities, we have our foster care programs in Florida, Delaware, and upstate New York and New York City, and our biggest program is actually our migrant foster care program for unaccompanied minors that come into the US without an adult. This is a big contract that we have with the Office of Refugee Resettlement.
AA: That's quite the task list! How did you end up working for Cayuga Centers?
I've been here for about a year and a half, and I'm the executive assistant to our president and CEO. What drew me to Cayuga Centers when I first got out of college was that they don't just provide foster care for these children—they also provide counseling, they provide schooling, they provide any and everything that they need.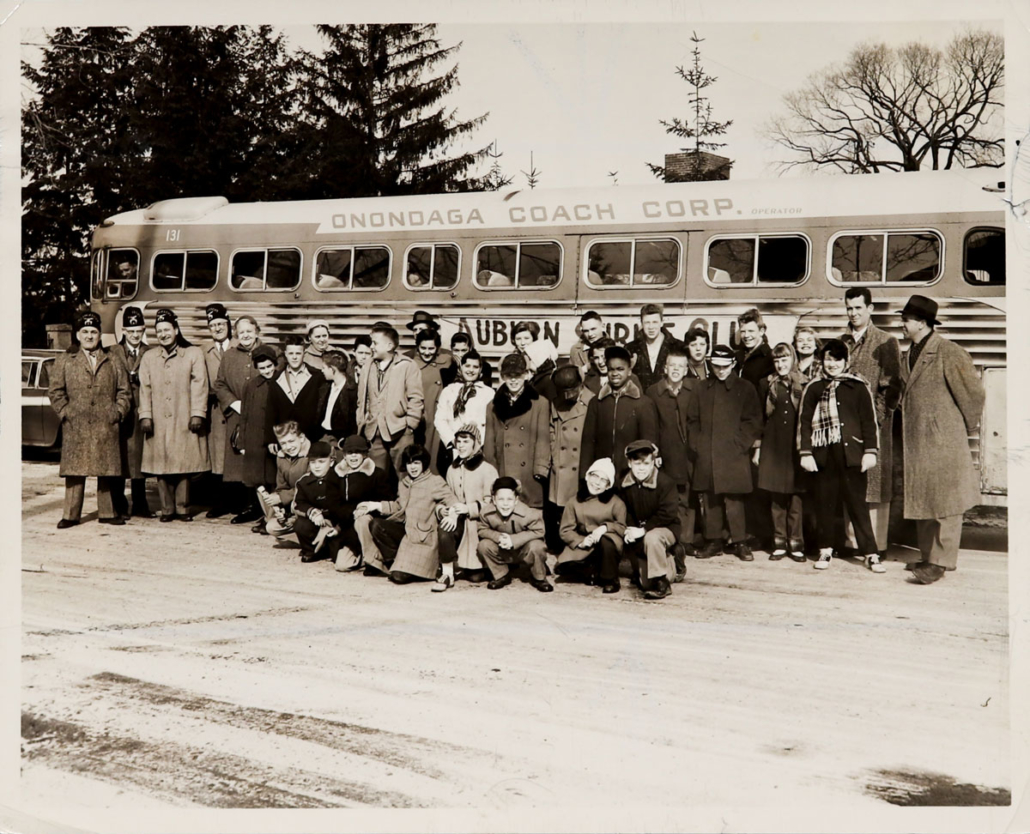 [The children] are at a disadvantage when they go through the foster care system, and that's what really drew me into it. If I had children and somehow they got separated from me, I would want them to go to a Cayuga Centers foster home. For the children that come over the border, we make sure that they're in a home that speaks their native language as well.
AA: How did you decide to reach out for digitization services?
One of my duties [when] I came into this job [was] to look after our archive, which is located in our headquarters in Auburn, New York. [It's] this big old library, and before COVID happened, people liked to come in to view the records from back in the orphanage for genealogical purposes. Our staff also likes to look through them because they're really cool old books. After researching how to properly store these [books] and what we can do to best preserve them, I found Anderson [Archival] and sent them off to be digitized.
AA: When you were looking for a digital preservation vendor to help you with this project, what specific challenges did you know going in that your collection would have?
They're very fragile. When you look through them, some of the pages are falling out, some of them are torn up, some of them are very faded.
Finding a company that was able to capture the image and make sure it was the best it could [be] was really key for this particular collection.
I was looking at different providers, and you guys fit exactly what we needed. [Anderson Archival's facilities] have everything in house. We can just send them to you and [know that] you take good care of the books. They are very fragile, they're from the 1800s. You scan every page and then send us those files for us to keep on file for ourselves. I like that you guys are all in-house and just seem like a good reputable business. And that's why we chose you.
AA: Did you learn anything new about your collection through digitization?
It's a lot bigger than we originally thought it was. We see it and where it's stored, and then seeing all the individual files…there's so many of them. The books are a lot thicker than they look in real life.
Also, there was a prominent figure in Auburn who was the head of the orphanage, and they actually had an all-female board that ran it, which was very cool and rare for the time. I found that when looking through the old annual reports.
AA: If these books were available for the public to come in and look at, are the newly digitized files something that you'll be using in that way?
Yeah, sometimes people have to get permission from us to come in to view them. But some people haven't been able to come in because they're from all over the country, and they have an ancestor that stayed in the orphanage and they wanted to come here and find their files. Now that they're digitized, we can find the specific year and the register that their ancestor, parent, or grandparent lived in and can send that to them.
Also, we have staff from multiple locations throughout upstate New York, Delaware, and Florida. Not everyone has been able to come in and view the collection, so we make it available for our staff to be able to look through whenever they have the interest to. That's something our staff would really like, to be able to see from wherever they are, especially because of COVID. People haven't been able to travel as much as they used to.
AA: Are there any other ways that you foresee using the digital collection in the future?
One of our books actually has Harriet Tubman in it because she adopted a child who I believe is blind and that's how she came to live with her and fostered her at home here in Auburn. Just looking through [the collection] one of our staff found [that record], and then we were able to find out that Harriet Tubman was involved in the early history of our agency, which is very cool.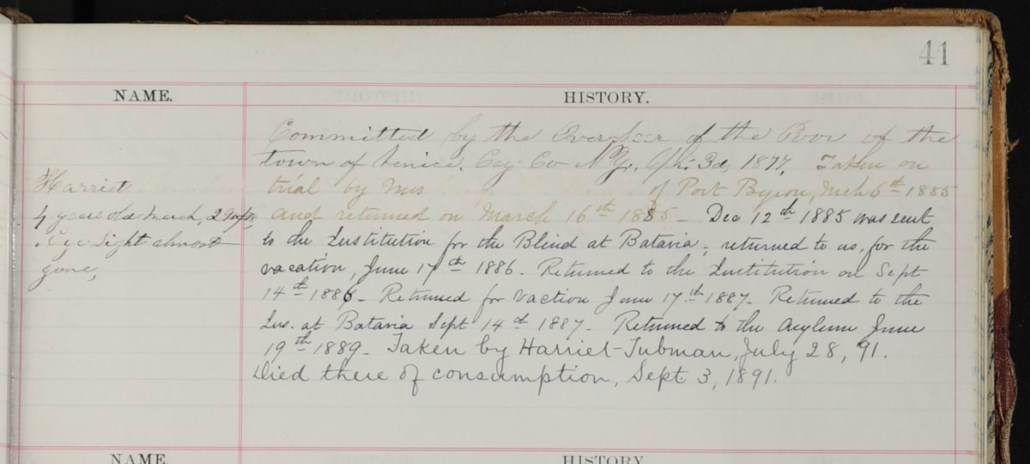 It makes sense because Harriet Tubman was very involved with the Seward family and Auburn. I believe they were involved in the founding of the original orphanage, which was [originally] called the Cayuga Asylum for Destitute Children.
We want to think of a way that we can share it on our website, like the Harriet Tubman register or the scrapbook, for more particular interest to the agency and our history. We're thinking of ways to share them with the public [too].
AA: Can you share any other stories about these personal connections to the past?
[There are a few stories of] people that have come in to view the collection that have been able to see parts of the digitized collection before it was finished. We had a woman whose aunt stayed at the orphanage as a child, and she wanted to try to find everything she could. They were going to the state to try to find her adoption papers and everything. Looking through the books, it was actually very hard to find her because your eyes miss things. But as it was digitized, I was actually able to find the exact page that her aunt was on, and I was able to print and send that page to them because it was digitized. They were out of state, so she was so grateful. Because the image was so clear I was able to print them out a blank one and then I also printed out one where I was able to highlight where she was in the page.
AA: That has to be really special for people, to have that physical manifestation of their ancestor. What other impacts has the digital collection had so far?
Another gentleman came in, and some of his cousins, I believe, stayed [at Cayuga]. He came in and was looking through the books but wasn't able to find anything. But then, after it got digitized, I was then able to more easily find where they were. He said that he cried because he was so happy he was able to find more about them, because they actually had siblings that also came in through here.
A lot of people come in because they have some sort of family connection to Cayuga. There's a big cemetery in Auburn where we have a few of the graves of the orphans that unfortunately died from illness when they were staying here, [and it's] the same place the Sewards are buried, that Harriet Tubman is buried. A few years ago on our 165th anniversary, we had a little ceremony there.
AA: Thank you so much for taking the time to speak with me.
Thanks so much for being interested in us, and thank you guys for doing a great job.