What do you do when tragedy befalls a one-of-a-kind document?
Accidents are bound to happen, but it's devastating when they happen to rare materials. Birth certificates and diplomas can be reissued, but unique, antique, or otherwise precious pieces of history don't always have a simple—or successful—solution when the worst happens.
Kelienne "Kelli" M. Miriani-Ripple was faced with a calamitous situation in the fall of 2020 when an invaluable piece of family memorabilia was damaged in a cat-related incident.
For Kelli, remaining homebound due to the COVID-19 pandemic provided an opportunity to go through her numerous boxes of family memorabilia.
Among other treasures, Kelli discovered a framed proclamation from the Mayor of St. Louis that celebrated the anniversary and community involvement of Kelli 's grandparents, Helen and Anthony Colombo. Pleased with what she had uncovered, Kelli leaned the document against the wall in her family room, indicating to her husband where she would like it hung in her new family museum.
Enter Tommy the cat. The framed document was in a prime location for Tommy to take notice, and no more than a minute had passed after Kelli set down the proclamation when Tommy was there, marking his territory. There wasn't any way to clean such a foul liquid from the document, and Kelli certainly didn't want to display her cat's contribution on the walls.
"I felt so stupid," Kelli told Anderson Archival.
The document in question not only commemorated a milestone in her grandparents' lives, but also provided a vital piece of her family's history in St. Louis.
Kelli's great-grandfather, Emilio Negro, journeyed to America in the early 1900s. He settled in St. Louis, Missouri, and began to build a life for himself. Due to the way Italians were treated at the time, he started a house-building business under an alias. Many of those houses remain in the family today. Emilio raised his family in the St. Louis neighborhood The Hill, which is steeped in the history of its Italian immigrants. Emilio and his wife Luisa's daughter, Helen, was born in 1917, and she grew up to marry Anthony "Tony" Colombo, who was born in 1918.
Tony Colombo, like his father-in-law before him, was an integral part of the The Hill's closely knit community. Around 1946, he returned from WWII and opened Colombo's Tavern, which still stands on Manchester Road today.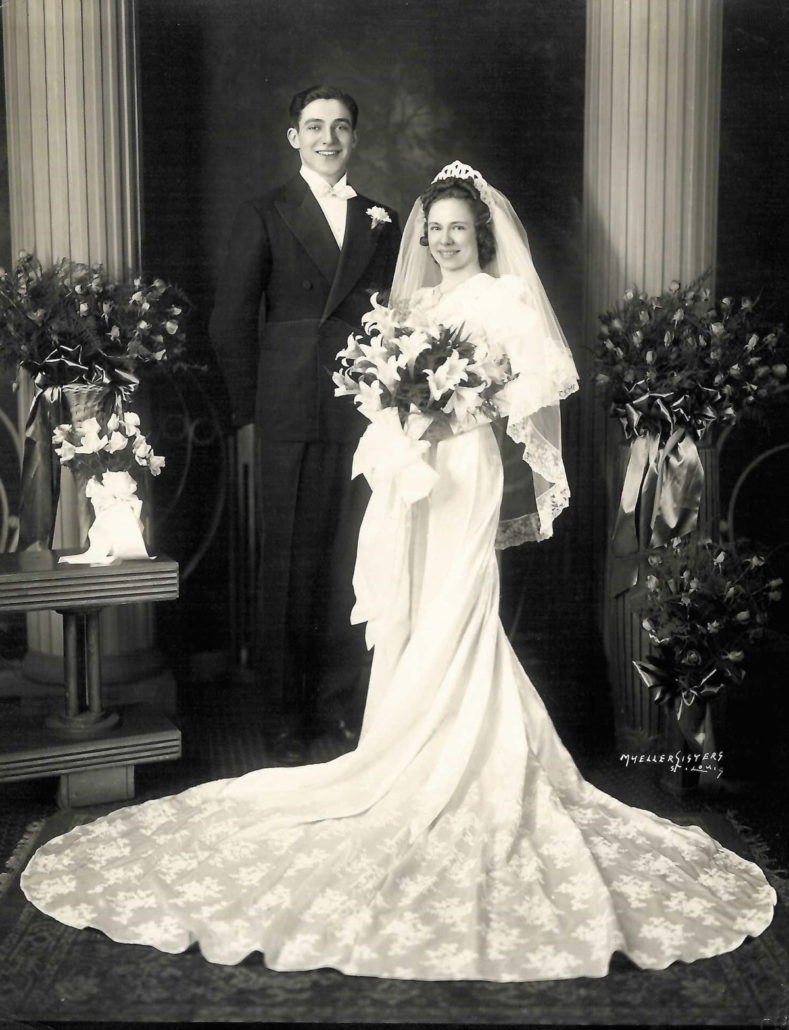 Tony became very active in politics and was well-connected in St. Louis. Though he only had an eighth-grade education, Tony had a reputation in his community for treating everyone with respect, from politicians and police officers to the downtrodden.
Whatever you need, Tony will take care of you," Kelli recites.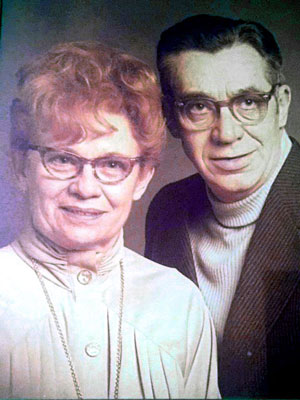 The Tavern offered many services: financial aid, check cashing, and more. If someone came in needing help, Tony would use his connections in the community to do whatever he could for them. Tony prided himself on taking care of his community and his family. "They called me 'Crash' because I was accident-prone," Miriani recalls. "Grandpa was always there to finance repairs."
Helen was also involved in community politics and worked for the St. Louis Municipal Courts system. The combined influence of Helen and Tony contributed to the legacies of many local politicians still active today.
Following the tradition of families on The Hill, the Colombo family always had four generations living close together. Being a beloved granddaughter of Tony and Helen, Kelli herself contributed to the larger community by helping with political work and babysitting during community events.
When Helen passed away, Kelli swooped in to rescue what items she could and rummaged through them to pull out items for display.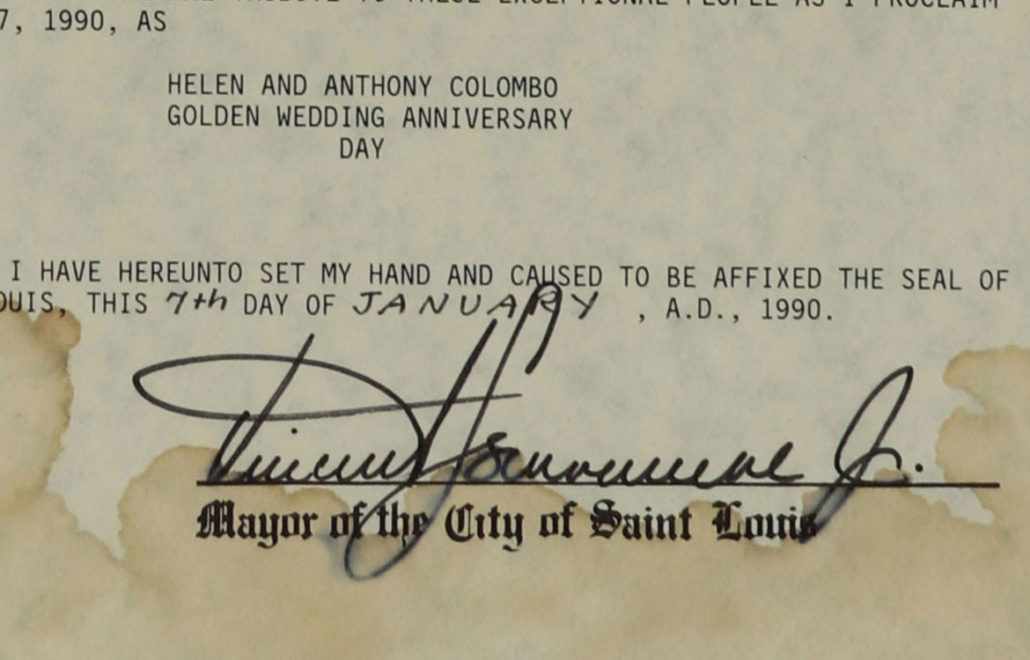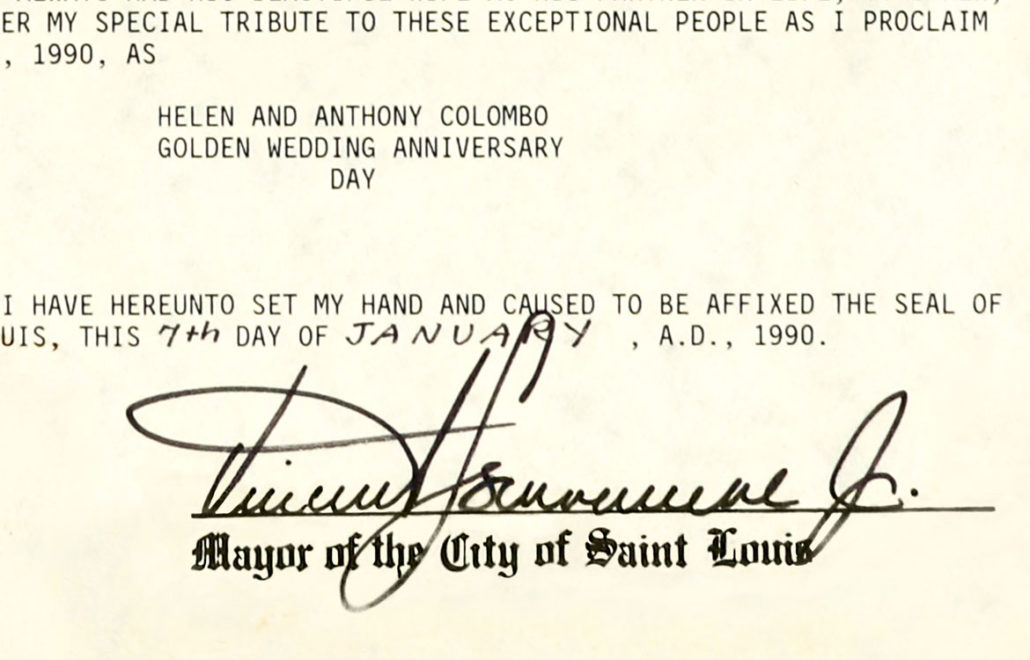 The wedding proclamation wasn't the only one-of-a-kind piece of family memorabilia found in these bins. Seeking to restore the cat-sodden proclamation allowed Kelli to consider fixing another document. A resolution regarding the Colombos' anniversary in partnership with the damaged proclamation had a typo in Helen's maiden name.
Kelli's husband was the one who found Anderson Archival online. He's an avid researcher who takes his time to read reviews and evaluate potential vendors in all aspects of his life, so Kelli had high hopes that something could be done to preserve her documents. "The worst that could happen would be that they say no."
Always eager to accept a challenge, Anderson Archival said, "Let's see what we can do."
Though the proclamation was discolored, blurred, and permanently damaged, Anderson Archival was able to digitally reconstruct the text at the bottom of the document. Careful scanning of the oversized document allowed for a clear, perfectly editable image. Digitally restoring the document preserved the original in its cat-branded state but also provided a clean replica that Miriani could reprint and display for posterity.
The resolution document was another challenge, because the typos in the original required digital replacement of several letters that needed to match the spacing and coloring of the document around them. This typically isn't the kind of undertaking most digital preservationists on their doorstep, because most preservation projects emphasize protecting the original content of a document. But since Kelli was intending to use this digitally-corrected document for personal display, she wanted the replica to have the correct information.
The walls of Kelli's family room tell the stories of family members no longer alive, her own small family museum. This collection highlights the personal impact of her grandparents' lives to both their family and community. The Colombo-Miriani museum will continue to grow as Kelli discovers new family artifacts, and now has two more beautifully restored replicas that honor Anthony and Helen Colombo.


Do you have family memorabilia or historical artifacts you'd like to display but are stained, waterlogged, or otherwise damaged? Digital restoration may be exactly what you need! Contact us today to see what we can do for your special item.